1
Carin Koch, LPGA
WGC Staff Pro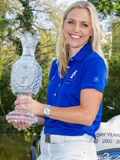 Thank you WebGolfClub.com sponsors!
Visit them all »HERE
Congratulations to our very own Staff Professional Carin Koch for being named Captain of Team Europe.

The 2015 Solheim Cup will be the 14th edition of the Solheim Cup matches, to be held on 18–20 September at the Golf Club St. Leon-Rot, St. Leon-Rot, Baden-Württemberg, Germany. Read More »HERE

STAY TUNED for details regarding WebGolfClub Events in Baden-Württemberg, Germany in the Summer of 2015. We are working on getting the 2015 Member Guest at Golf Club Markgräflerland Kandern in Kandern, Germany. For more information, contact David Mitchell, PGA. For those wanting to attend the 2015 Solheim Cup, contact John Herlong, PGA. We would like to see lots of WebGolfClub Members there to support Carin.

One of the Premier Tournament Series for Juniors. For more information, visit the South Florida PGA website HERE.

» Next Major...

The 2015 Masters Tournament will be the 79th edition of the Masters Tournament and the first of golf's four major championships to be held in 2015. It will be held from April 9–12 at Augusta National Golf Club in Augusta, Georgia.. For more Information, click HERE.

» Tip of the Week

Come Celebrate our Member-Guest Golf Tournament and 13th Year at Edenhof Golfklubb in Bälinge Sweden August 22nd-24th, 2014.

For more Information, Click HERE.

» Camilo Villegas breaks winless streak at Wyndham Championship

- August 17, 2014

» Inbee Park wins LPGA Championship

- August 17, 2014

» Kevin Sutherland shoots first 59 in Champions Tour

- August 16, 2014

» Brittany Lincicome surges into LPGA Championship lead

- August 15, 2014

» Rory McIlroy maintains a steady hand to grab first British Open title

- July 21, 2014

» UCLA alum Mo Martin Eagles Final Hole to win Women's British Open

- July 14, 2014

» Investors buy up troubled Golf Courses, shoot for Profitability

- July 9, 2014

» Angel Cabrera shoots final-round 64 to win Greenbrier Classic

- July 8, 2014

» Billy Hurley III stays out front at Greenbrier Classic

- July 6, 2014

» A brief History of Royal Liverpool Golf Club British Open Addition

- July 2, 2014

» There's plenty at stake as Tiger returns to PGA Tour...

- June 26, 2014

» All WebGolfClub News Please feel free to submit any articles you would like to see added. Email them to herlong@pga.com

Interesting Article about Carin in GOLF FOR WOMEN Magazine.

"Swedish star Carin Koch on beauty, style, her role as a pro-golfer -- and her days as an ABBA-obsessed makeover artist"


View the entire article

»HERE

Play golf for LESS. The BEST Golf DISCOUNTS on the Web... Sign up HERE.
WebGolfClub.com is Recognized by the
PGA of America