1
Carin Koch, LPGA
WGC Staff Pro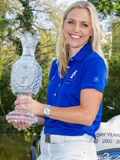 Thank you WebGolfClub.com sponsors!
Visit them all »HERE
Congratulations to our very own Staff Professional Carin Koch for being named Captain of Team Europe.

The 2015 Solheim Cup will be the 14th edition of the Solheim Cup matches, to be held on 18–20 September at the Golf Club St. Leon-Rot, St. Leon-Rot, Baden-Württemberg, Germany. Read More »HERE

STAY TUNED for details regarding WebGolfClub Events in Baden-Württemberg, Germany in the Summer of 2015. We are working on getting the 2015 Member Guest at Golf Club Markgräflerland Kandern in Kandern, Germany. For more information, contact David Mitchell, PGA. For those wanting to attend the 2015 Solheim Cup, contact John Herlong, PGA. We would like to see lots of WebGolfClub Members there to support Carin.

One of the Premier Tournament Series for Juniors. For more information, visit the South Florida PGA website HERE.

» Next Major...

The 2015 United States Open Championship will be the 115th U.S. Open, scheduled to be played June 18–21 at Chambers Bay in University Place, Washington, southwest of Tacoma on the shore of Puget Sound... For more Information, click HERE.

» Tip of the Week

13th Annual WebGolfClub Member-Guest Golf Tournament Champions:

Scott Peterson & Evan Chrisman, USA

Runners Up:

Karl Kungstornet & Roland Thorstensson, Sweden

Congratulations to you ALL! Thanks for your participation at Edenhof Golfklubb in Bälinge Sweden

» Ortiz calls PGA Tour's Mexico stop 'dream come true'...

- October 14, 2014

» Phil Mickelson saves best shot for Ryder Cup captain Tom Watson...

- October 3, 2014

» Hindsight: a Ryder Cup tradition, like no other...

- September 18, 2014

» R&A set for historic vote on Women Members...

- September 17, 2014

» McIlroy wins PGA player of the year award...

- September 13, 2014

» So Yeon Ryu wins Canadian Women's Open...

- August 26, 2014

» Donaldson wins Czech Masters, makes Ryder Cup...

- August 25, 2014

» A timely win for Mahan at The Barclays...

- August 24, 2014

» All WebGolfClub News Please feel free to submit any articles you would like to see added. Email them to herlong@pga.com

Interesting Article about Carin in GOLF FOR WOMEN Magazine.

"Swedish star Carin Koch on beauty, style, her role as a pro-golfer -- and her days as an ABBA-obsessed makeover artist"


View the entire article

»HERE

Play golf for LESS. The BEST Golf DISCOUNTS on the Web... Sign up HERE.
WebGolfClub.com is Recognized by the
PGA of America