1
Carin Koch, LPGA
WGC Staff Pro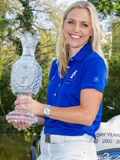 Thank you WebGolfClub.com sponsors!
Visit them all »HERE

Thank you for visiting WebGolfClub's Online Lesson Tee. We are here to answer any questions that you may have regarding the golf swing, rules/regulations, or just golf etiquette. Please fill out the Online Lesson Tee Request Form and submit any questions that you may have. One of our Professional Staff Members will get back with you within 12 hours. If you have any further questions, please contact WebGolfClub's PGA Professional John S. Herlong, Jr. Send any photos or video clips to that address as well. Upload any Video to john@webgolfclub.com.
Online Lesson Request Form
WebGolfClub.com is Recognized by the
PGA of America