Carin Koch
by Elspeth Burnside

The day after Europe's magnificent Solheim Cup victory over the US at Loch Lomond last October a striking blonde with a beaming smile shone out from the back pages. One of the most perfect of moments for the European women's game had been sealed by an eight foot, birdie putt, on the 17th - and it was the photogenic Carin Koch who holed it to clinch the winning point in the penultimate match of the final day singles.
For Koch, it was a dream come true. That dramatic moment has also proved to be a platform from which she is now building an even more successful career as one of the world's leading professionals.
At her home in Scottsdale, Arizona, Carin talked to Bunkered's Espeth Burnside about the changes the Solheim has made to her career, and she also gives an insight into life as a wife and young mother on the professional circuit.
First of all, we must look back at Loch Lomond. How good was it?
It was extra special; everything I've dreamed about and more. The atmosphere in the European camp was great all week and Dale Reid was a wonderful captain. To pull off the victory was magnificent and for me to hole the winning putt... Well, you just couldn't ask for anything better.
It must have been extra pleasing, considering your unlucky Solheim history. You were controversially overlooked by Mickey Walker for a captain's wild-card pick in 1996-Dale Reid got the nod instead-and then the fact that you were seven months pregnant again counted against you in 1998. Did you wonder if you were ever going to make it?

I certainly had waited a long time to make the team, and it was a relief to be named as one of Dale's wild cards this time. But I think that made it extra special. I was so disappointed when I missed out in 1996 and 1998, but I always knew that I deserved to be there and that I could justify my place.
You certainly did that, considering you won all three matches that you played in - a 100 per cent record isn't bad for a debut. But just how nerve-wracking is it playing?

It's unbelievable. The pressure is enormous. But I had a great partner in Catrin Nilsmark in the foursomes and fourball, and then the singles was just an amazing afternoon.
With the outcome hanging in the balance, and everyone depending on you, can you describe the final moments of your singles match?

Strangely, I felt very calm. I stood on the 17th tee (a short hole) one up and I knew I needed to produce one good, solid swing. I did that, it landed about eight feet from the hole and, as they say, the rest is history. But, when I holed the putt, it was just the best feeling. Everybody was jumping about and I felt so happy.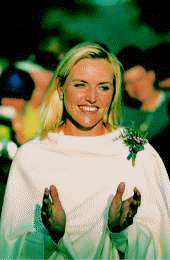 But wasn't it a funny old final afternoon? With a five-point lead everyone really thought that the Cup was in the bag. But the leaderboard soon turned nasty.
Yes. We got off to a terrible start and the scoreboard was covered in red. But then we had around a 40-minute break because of rain and I think that really worked in our favor. We all got together and Dale gave us a really good talking to. Catrin [Nilsmark] then insisted that she was going to win her match and we all became convinced that we were going to win. I definitely think it was a turning point.

But work had still to be done.
The break had made us all start thinking positively again. Then I saw that Catrin and Janice [Moodie] were doing really well and the scoreboard was turning blue. I also sensed that Michele was getting very nervous. I was nervous too, but they were good nerves and I just tried to stay focused on every shot.
Now, months later, how do look back on Loch Lomond?
It's all so positive. To be able to play so well under the most pressure I have ever experienced has given me a lot of confidence. I proved myself. Now I know that I can't face anything more testing than the shots that I hit on that final afternoon.
This season you started on the LPGA tour with a tie for second in the Your Life Vitamins Classic in Florida and you also featured highly in the first major, the Nabisco Championship, before finishing 15th. At number 22 on the money list, you are heading for your best season ever.
It's been a steady start. As I said, after the Solheim, I no longer feel that I have anything to prove and that has made me much more confident. Actually, I was amazed that I did start the season so well. I pulled a rib muscle in the middle of November. It was really stupid; I just coughed too hard - and I didn't really start hitting shots again until the New Year. I was worried, but Stefan [her husband] reminded me that I took about the same time off when I had Oliver [her son] and, actually, I think the rest did me good and it meant we could go home and have a really restful Christmas in Sweden.
| | |
| --- | --- |
| | "What I really want is to become more consistent and have a lot of top ten and top twenty finishes." |
But how much do you want that first LPGA win?
You know, I just guess that my time will come. I'm not applying any pressure, saying that I have to win this year or next or whatever. What I really want is to become more consistent, get into contention on a regular basis and have a lot of top ten and top twenties.
You scored your first win in Europe last year and it happened in front of your home fans at the Chrysler Open at Halmstad. How important was that breakthrough?
That was great, particularly as it happened in Sweden. I think everyone had always been asking when it would happen for me in Europe, and it was nice to do it.
With your career moving to a higher level, and with a husband and son to keep you happy off the course, life must be pretty good at the moment. But how do you cope with life on the road and looking after two-year-old Oliver?
I'm very lucky because my husband, Stefan, helps out so much. He organizes Oliver when I'm playing and they can come out to watch because there are great day-care facilities at all the tournaments on the LPGA.
How did you and Stefan meet?
He was the head professional at my club just outside Gothenbourg. We met when I was 18 and he was 23.
He used to caddie for you.
Yes, but I always say that we split up on the course because we wanted to stay married. He played tournament golf as well. and tried it in Europe and Australia.
You were once known as someone who had a fierce temper on the course. So poor Stefan couldn't have had it easy when he was your man on the bag?
I did used to get pretty fiery, but I've calmed down a lot since I had Oliver. Now I leave the golf course and forget all about the round. I used to brood over the bad shots - but now I spend all the time that I'm not playing changing nappies and playing with Oliver. Becoming a mum has definitely been good for me, and my golf.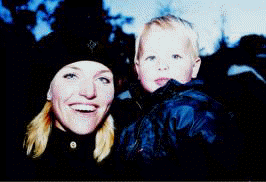 But Stefan is still involved with helping your game?
My coach is an American, Chuck Cook, but Stefan also knows my swing so well that he can help out at tournaments. He follows me round. It's also great for Oliver that we are both around every day.

You're one of the women players that carry a lot of woods. At the Nabisco you even had an 11 wood in your bag. Can you give women amateurs any advice on ditching the longer irons for the more lofted woods?
At the Nabisco the rough is really tough and it is difficult to hit irons. My 11 wood is equivalent to a four iron, but it produces a higher and softer shot and is ideal for playing out of the rough. I would definitely recommend that women players opt for the woods.
You went to the University of Tulsa [the US accent confirms that 30-year-old Carin has spent much of her life in the States] and you now live in Arizona. Is America always going to be home?
We're leaving our options open. I really would like Oliver to go to school in Sweden; it feels much more natural. But Swedish kids don't start school until they are seven or eight so that is still quite a long way off. Of course, he is quite settled in America. He speaks Swedish and English, but Swedish comes first.
And do you enjoy the pro's lifestyle?
I do. The flights and travel can be quite hard, but I love playing golf and it has given us a good life-style.
But what do you miss most about home?
Family and friends and silly things like Swedish food. I miss watching my friends' children grow up. But everything in the US is very convenient and we've adjusted well and made a lot of good friends. There are also quite a few Swedish players that live in the Scottsdale area, such as Charlotta Sorenstam and Maria Hjorth. And our parents come over on regular visits.
Unfortunately, the Chrysler Open is not taking place this year so you won't have a title to defend. How do you think the Evian tour is faring?
It's been through some difficult times, but the signs are promising. I am disappointed, however, that I won't be able to go back to Sweden to defend my title.
| | |
| --- | --- |
| | "I spend all the time that I'm not playing changing nappies and playing with Oliver." |
You grew up playing alongside Annika Sorenstam in Swedish teams. She is having a sensational season [including four wins and a round of 59 in the Standard Register PING]. What do you think of her career?
Annika and I are great friends and what she has done for women's golf is unbelievable. She was always very competitive as she grew up and it's been wonderful to watch her success.
It must be nice to have so many Swedes on the LPGA tour?
It is, especially since so many of us are enjoying success.
Indeed. And let's hope it won't be too long before Carin Koch is the next Swede to add her name to the LPGA winners' list. As for last year's Solheim Cup, I'm sure everyone involved in the women's game in Europe would just like to say "Thanks for the memories".